I haven't done this meme in a while so I decided that this is the right time to do it and the theme for this week is to be thankful for something. This is a weekly meme that is hosted by the girls at
The Broke and the Bookish
. I decided to separate the things I'm thankful for in 2: 1) The things that shaped my reality and 2) books that shaped my fiction reality and thanks to which I read. So let's get started!
I am thankful for ...
1. Pizza.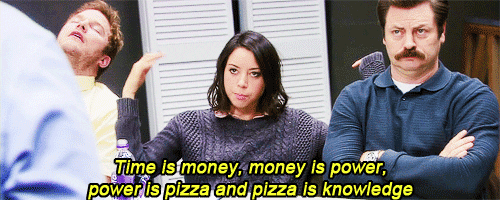 In my life my love for food is represented by the one I have for pizza. So you can say 1) Food is my life; 2) Pizza is my life; 3) When I got an oppurtunity to talk about food I always use it. Whatever you answer is YOU ARE 100% RIGHT!
People that know me well know that there is not a day when I don't talk about pizza. You see when I've discovered the good pizza there wasn't going back for me to the ordinary foods. I'm really glad that a creature like me discovered this holy thing. It's the best thing in the world and you can eat it whenever you want. (Don't even save it for later..That's not good!)
2. Family.
They can be on your nerve almost all the time but at the end of the day they still support you no matter what crazy ideas for future you have. That's the best part. And they did everything they can and thought is best for you so you can become a proper human being. (still questioning the last thing.
3. Friends.
But honestly we more shaped and changed ourselves thanks to our friends. I'm talking about the true friends, the ones that bring you pizza when they're coming to your home or chocolate or wine or whatever else you like. The ones that you can share every crazy little thing with without looking a complete weirdo. The ones that even though you have some bad days they are still there and ready to help. They are precious and you should hold on to them no matter what even if they eat the last bite of your favorite food!
4. Bath and Body Works.
Seriously that's the best store ever! Not because of the strong smell that hits you when you are not even close to it but because of the best shower gells and lotions and CANDLES (let's not forget about candles) No matter how many times I go in there and buy things it's never enough. Almost feeling like Sharpay.
5. Internet.
Without it nothing of everything you see right now couldn't be possible. Okay may be without electicity and computers also but you're getting my point. Internet is a beautiful place .. at least for me where you can fangirl over your obsession (Tumblr, YouTube), saving DIYs or recipes even though you know you're not so good at cooking and don't have enough time (Pinterest), gossip, gossip,gossip (Facebook and don't tell me you don't do that. You did it at least once in you life so ... shh) And many more sites where you can happilly waste (in a positive way!) your time.
6. Coffee/ Hot Chocolate.
Long day with so many things to do and get done ... you need it. Even if you like me don't use it so much for waking up but because of the taste and just enjoying something for a little bit.
Hot chocolate is another deal especially when the weather gets cold. Too cold outside? Movie, hot chocolate, pizza and friends. There you go. Or you can read a book. DON"T EAT WHILE YOU"RE READING!! You can drink but be careful, please :)
7. Make up.
That came from a nowhere but it is what it is my friends. That doesn't mean I'm using it every single day maybe some of the things but not the full gear. Make up is another way to express yourself and for you to like yourself. If you don't use it okay and if you do - also okay.
8. Community and inspiration that comes when you join the world of blogging/vlogging or just bookstagram.
And that is my favorite thing that I really appreciate. No matter who you are or where you are you are a part of something bigger and really beautiful.
You can always go to other people blogs, videos or instagram accounts for inspiration because that's when it hits you sometimes, especially when you are afraid of talking about certain topic and need to express yourself more seeing it done by others it gives you the power you need. That doesn't mean you are copying it it just means that you are more confident now and there are not two things that are the same so go create, do it!!!
And now let's go to the books that I'm thankful for...
9. Wizard of Oz - L. Frank Baum.
My imagination appreciates this book so much that I think it won't functioning well without it.
10. Lament and Ballad - Maggie Stiefvater.
There we go with the books that introduce me to the fantasy genre and I didn't comeback from it ever since.
Of course I could've put more books but why to do that when I'm talking about them all the time and those 3 are the most important ones in my life.
So this was my list of things that I'm thankful for. I'll be glad to read yours and you can either put the link or just write it down as a comment! :)